Hiking, Re-used furniture & Homemade cakes
Viktoria:
Got tired of her job sitting by her desk and would rather use her creativity personalizing & adapting furniture from her customer's wishes, baking, helping people enjoy a good and leisurly breakfast or an afternoon tea..
She also want's to give people having the opportunity to stay at her future guest house/BnB...

Anders:
The electrician and scout that wanted a change & became a lighting designer, nowadays intends to make people enjoy nature and the great Swedish outdoors, by experiencing it in a slightly different way - through hiking, windbreak and above all - good food prepared on open fire.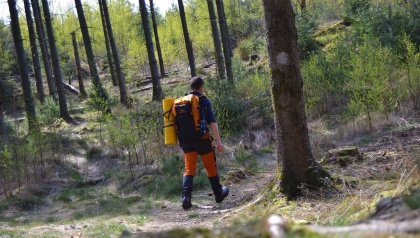 Recreation (from latin's recreare)
-is an activity of leisure, one that is pursued for enjoyment or pleasure.
Recreational activities are often done for enjoyment, amusement, or pleasure and are considered to be "fun".

Questions? Contact us by phone +46(0)35-299 05 05 or E-mail kontakt@recreation.nu
Tranquility & Harmony
- RECREATION